I think all musicians will agree that playing guitar with a quality amp is something truly enjoyable. However, if you cannot play music loudly because you do not want to disturb your roommates or neighbours, the best headphones for guitar amp would be a perfect solution. Such a device also will help you find out how your guitar signal would sound directly into an interface for recording. The thing is that not any pair of headphones is suitable for this purpose. You have to consider some technical features in order to get a clean sound.

It is for sure that you need professional-grade headphones. I have chosen six appliances with excellent features and attractive design. All of them are made by different manufacturers and each model has something that makes the device special. In this review, I will tell you which headphones are better with an open or closed design and why.
Our pick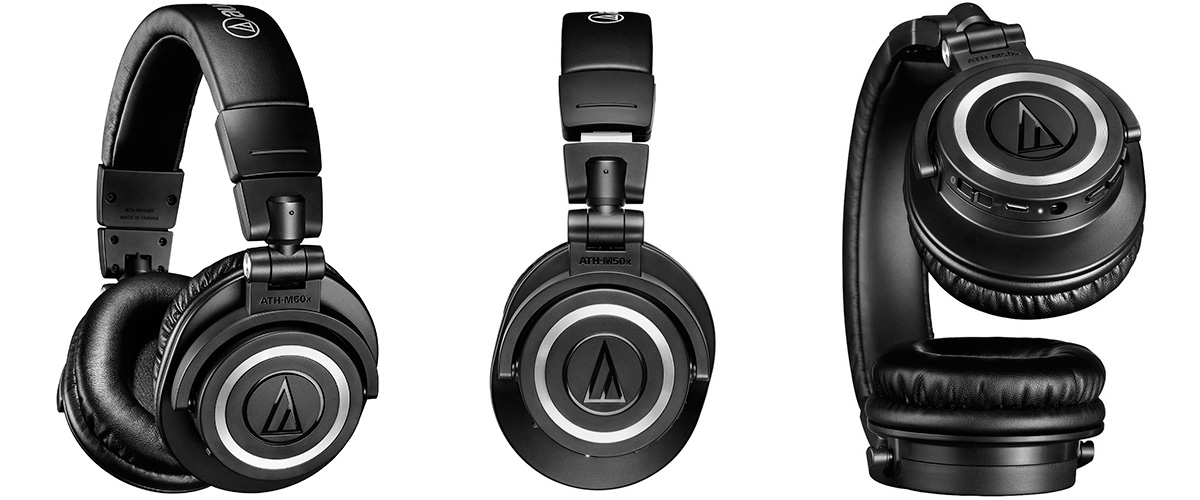 Audio-Technica ATH-M50xBT
The best Headphones For Guitar Amp
What to pay attention for
The prices of headphones vary a lot, so it's important to know what is different between all the models and which one would be better for you. Even if you are not ready to spend a lot of money on headphones for an electric guitar, there are still some good options available. The appliances mentioned here are divided into several categories according to their price. So, you can start reading about the headphones that you can afford and choose the greatest of them right now.
I have to say that creating this review with the best headphones for guitar electric guitar practice wasn't that easy as the number of headphones that could be used with a guitar is high(?) In addition, different companies are constantly manufacturing new devices with excellent features. I have tried about 30 different models to find the ones that sound impressive.
Closed back or open back headphones
The main difference between these two types of devices is that closed back headphones do not let air pass through their ear cups, while the open models do. Well, how can you find out what type of headphones is better for you? Mostly it depends on where you are going to listen to your guitar play. The thing is that open back units tend to leak a lot of sound. This means if you are buying the headphones because you do not want to disturb your roommate with music, then closed back models are definitely more suitable for your needs.
Best Headphones for Guitar Amp Review
Best Headphones For Guitar AMP Under $100 (Entry level)
AKG K240 STUDIO – best budget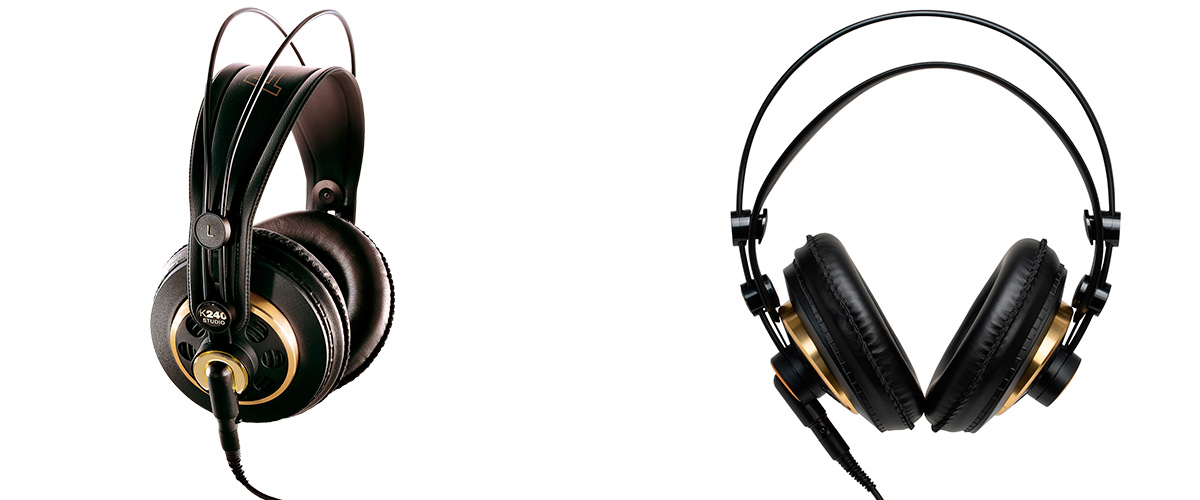 These wired headphones are being sold for an unbelievably low price. They are the best headphones for guitar amp that can be bought so cheaply. The headphones have an over-ear wearing style and semi open design. So, if you are looking for a middle way between closed and open appliances, pay attention to the AKG product. It has 55 Ohm of impedance, while its frequency response is 15 Hz – 25 kHz. The considered model weighs 240 g/8.4 oz and has 104 dB of sensitivity. These headphones are comfortable to use in any situation since they come with a ¼ gold-plated adapter (6.35mm).
The cable used for a wired connection is 300 cm/9.8 ft long. I have to say that this audio cable can be detached with no problem. The semi open device will allow you to move around your desk. The ear cups of AKG K240 STUDIO cannot be folded to take less space. However, the headphones are intended for home use, which means that it's not going to be a problem. Their design makes the headband easy-to-adjust. The combination of gold and black colours makes the device sleek.
Speaking of the sound of the appliance, it is very natural and pleasant. Usually, audiophiles choose semi open headphones because they have an incredibly wide soundstage and the model K240 STUDIO is not an exception. This unit is great for critical listening as it delivers very detailed and warm audio. Its imaging is impressively clear. The bass you will get with the AKG product is quite strong but bass-heads may not be fully satisfied.
Pros
Fantastic listening experience with most music genres
The ear cups are breathable which makes the appliance great for use in summer
Exceptionally comfortable for long listening sessions as it has super soft cushions and the headband does not feel tight
Cons
The semi open design leaks sound in both directions, so you can hear noises around you
Does not have buttons for control
Status Audio CB-1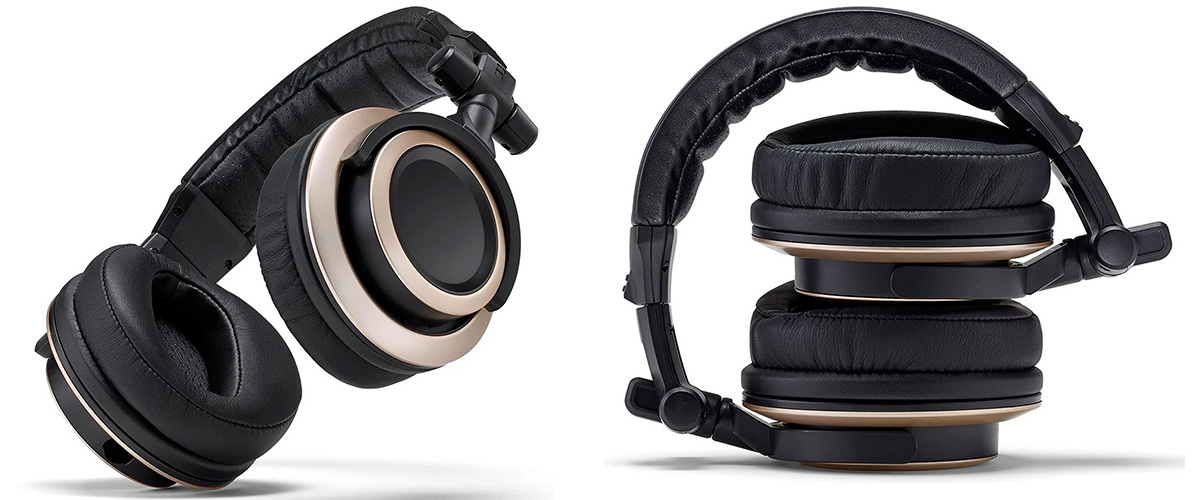 Let's take a closer look at these closed back headphones with an over-ear wearing style. The level of sensitivity of Status Audio CB-1 is 97 dB, so the appliance sounds pretty detailed even at high volumes. The next thing you definitely have to know is that the frequency range of the device is between 15 Hz and 30 kHz. Considering the impedance, which is 32 Ohm, the headphones are compatible with different gadgets with no amplifier.
The headphones made by Status can be used with a wire only. In the package, you will find two audio cables: straight and coiled. Both of them are detachable which means they can be easily replaced in case of damage. The length of each wire is 300 cm/9.8 ft. The model Audio CB-1 comes with a ¼ adapter for 6.35mm jack as the headphones have only a 3.5mm input.
An important thing that should be mentioned is the weight of the unit, which is 375 g/13.2 oz. The flexible headband is easy-to-adjust and distributes this weight all over the head. Even after several hours of wearing the headphones, I did not feel any fatigue. Despite its affordable price, the unit is made of premium materials that feel very durable. The black and golden pattern that is used in the design of the headphones makes them look elegant and stylish.
I know that you care about the sound of the headphones a lot, so let's talk about it. The first thing I noticed is the exceptional balance of the sound at all ranges. As the device is closed back, its soundstage could be better. However, there are plenty of nice features that make Status Audio CB-1 great for those who want to use the headphones with electro guitar. Clear imaging and good transparency will provide you with an amazing listening experience.
Pros
The well-padded ear cups provide decent passive noise isolation
The foldable design makes the headphones comfortable to carry
Cons
Due to the closed back design, the ear cups so not let air pass through which leads to sweating while wearing the unit in warm weather
Can look a bit bulky on some heads
Best Headphones For Guitar AMP Under $200 (Midrange)
Audio-Technica ATH-M50xBT – best overall and wireless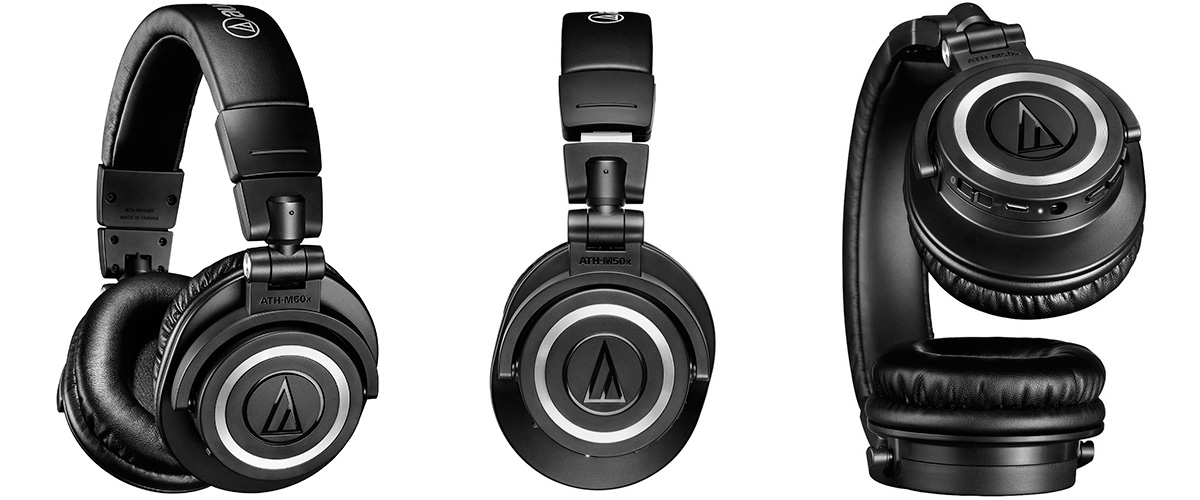 Let me show you the best wireless headphones for guitar amp that are made by a legendary brand. The device has comfortable over ear cups and closed back design. It supports Bluetooth 5.0 which is a big plus and can be quickly connected with any mobile gadget. This appliance has a great battery life – 40 hours. Just charge the headphones for 7 hours and forget about charging them for a week. Anyway, a battery-free listening mode is available, too. Just plug in a 120 cm/3.9 ft cable and enjoy the perfect sound produced by the ATH-M50xBT.
The headphones are convenient to use as there are many ways to control the device. The built-in buttons are easy-to-find and feel nice. There is also a touch panel that works very well. For maximum comfort, you will have Siri and Google Assistant. The headphones have a built-in mic, but the audio cable that comes with them has an in-line mic.
Although the headphones are wireless, they do not have noise cancelation. However, I can assure you that the over ear design of this model provides decent noise isolation. The unit is quite lightweight, it has only 310 g/10.9 oz. Audio-Technica ATH-M50xBT supports aptX, therefore its sound is full of detail. Another reason for it is 15 Hz – 28 kHz of frequency response.
You can equalize the audio of the best wireless headphones for guitar using a connect app. It is free and quite easy to install in the Play Store or App Store. In addition, this will help you find the device if it gets lost thanks to the location access sharing. Those who like good bass will be astonished by the sound of these headphones. They have tasteful adjustments to note the emphasis in the mids and highs.
Pros
The ear cups have a great amount of padding which makes them super comfortable for long-wearing
Awesome soundstage imaging
Do not protrude from the head, so you can go out with the headphones
Cons
Bluetooth carries some drawbacks
Getting warm due to its design
Beyerdynamic DT 770 PRO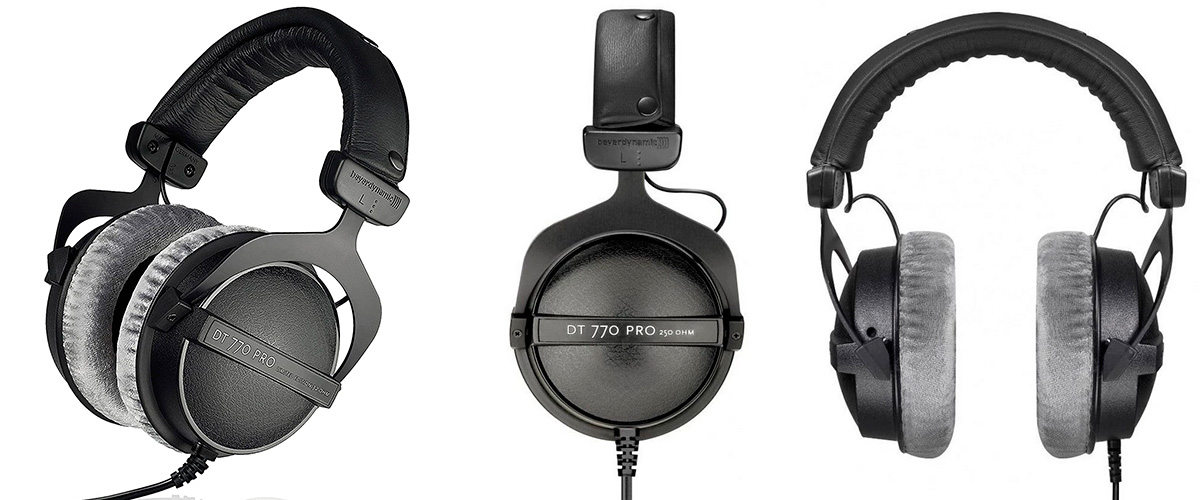 The ear cups of these headphones are covered with grey suede that feels nice on the skin. They have closed back design and provide exceptional comfort. The mentioned pair of headphones has an over-ear wearing style and can be used with an audio cable only. This model has a variety of impedance levels: 16, 32, 80, and 250 Ohm. Choose the option that is most comfortable for you and listen to music with one of the greatest headphones for guitar amp. The sensitivity of 96 dB provides a perfect clarity of sound even at high volumes.
One more thing that makes Beyerdynamic DT 770 PRO special is their super wide frequency response. The device produces audio in a range of 5 Hz – 35 kHz, so you will hear every sound of your guitar. This model weighs 360 g/12.6 oz but thanks to its adjustable headband the unit feels very comfortable on the head. You will get a ¼ adapter for 6.35mm jack with these headphones for better usability.
When it comes to audio quality, the DT 770 PRO is a device with the strongest bass among all the models made by this Austrian brand before. The sound produced by your guitar will be natural. Moreover, thanks to the features of the appliance, Beyerdynamic DT 770 PRO offers a high fidelity of audio.
Pros
Comes with a nice pouch for convenient carrying
The ear cups are sturdy enough to handle drops without getting broken
Comfortable metal frame with removable cushion strap
Cons
No microphone and buttons for control
Quite bulky
Shure SRH840
The headband of these headphones has a lot of padding and ensures a comfortable fit for many hours. The model SRH840 with closed back design has 102 dB of sensitivity. This device has an impedance of 44 Ohm, but one of the features that makes the headphones truly great is their frequency response, which is 5 Hz – 25 kHz.
Shure SRH840 does not work without a cable, however, its wire can be detached and replaced. Thanks to this, the device is much more durable as in case the cable gets damaged you can order a new one. The nice thing about the wire is that it does not get tangled easily. If the style of the unit is important for you, then the combination of dark colours with the metal plate may appeal to you. Overall, the SRH840 looks like a professional pair of headphones.
The headphones fold up, so if you want to play guitar outside, it is going to be easy to carry the SRH840 with you. Despite the fact, this model is quite big, it looks good on the head. You can listen to the sound provided by your guitar even with one ear since the cups of the headphones can flip around 180 degrees. Speaking of its sound, there are well-tuned mids. The audio offered by these cans is warm, however, it does not get muddy.
Pros
There is an extra pair of earpads in the package
Decent sound for both casual and professional users
Cons
The construction is mostly made from plastic
The audio cable is very thin and likely to be broken
Premium Headphones For Guitar AMP
Sennheiser HD 650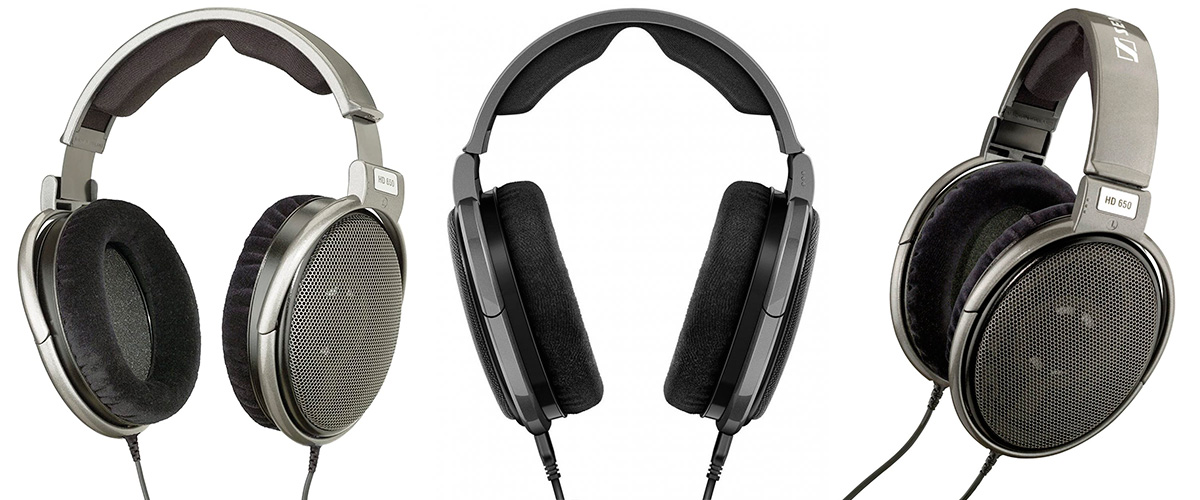 This open back pair of headphones is intended for real audiophiles who value high-quality sound. The unit has an over-ear wearing style and its ear cups are pretty breathable. The headphones made by Sennheiser are wired and come with a cable that is 300 cm/9.8 ft long. Although this model is not foldable, it comes with a case for carrying. Most parts of the headphones are replaceable.
The device has an extremely high level of impedance – 300 Ohm. Another feature you have to be aware of is the frequency response which is very wide – 10 Hz – 41 kHz. To add, the sensitivity of the HD 650 is 103 dB. Compared to other headphones in my review, this model is surprisingly lightweight – only 260 g/9.1 oz. I found a ¼ gold-plated adapter (6.35mm) in the box. The headphones are tight, so you are not going to lose them even moving your head while playing music.
I also have to say a few words about the sound, which is incredibly detailed. You will feel that the treble has an impressive extension. With regard to the bass, it is solid, full-bodied, and strong. Anyway, consider that the sound of Sennheiser HD 650 depends a lot on the user and positioning of the headphones.
Pros
The earpads are made of soft material for great comfort
Not delicate which means you can freely move with the headphones around without having to worry about damaging them
The stylish colour scheme with a glossy coating
Cons
Lack of a built-in microphone
The headband looks fragile
Leaks a lot of sound