Those who like gaming know how important a good sound is. It is impossible to enjoy the process if the audio is not natural. In this review, I will tell you about the best open back headphones for gaming. I spent hours wearing them and it was really comfortable. My gaming experience is pretty solid, so you can be sure that the mentioned models will be suitable for your needs.

Why did I choose only open back units? The thing is, most gamers value spacious sound with a decent surround effect above everything else. Headphones with open design allow you to get amazing audio with a great soundstage and soft acoustic profile. It's almost impossible to get the same result with a closed back appliance.
This review includes high-quality models that are popular among those who are keen on gaming. There are also budget pairs of headphones from famous manufacturers. The devices mentioned here are equipped with a microphone. Of course, I have checked the clarity of its sound and can assure you that it's excellent.
Our pick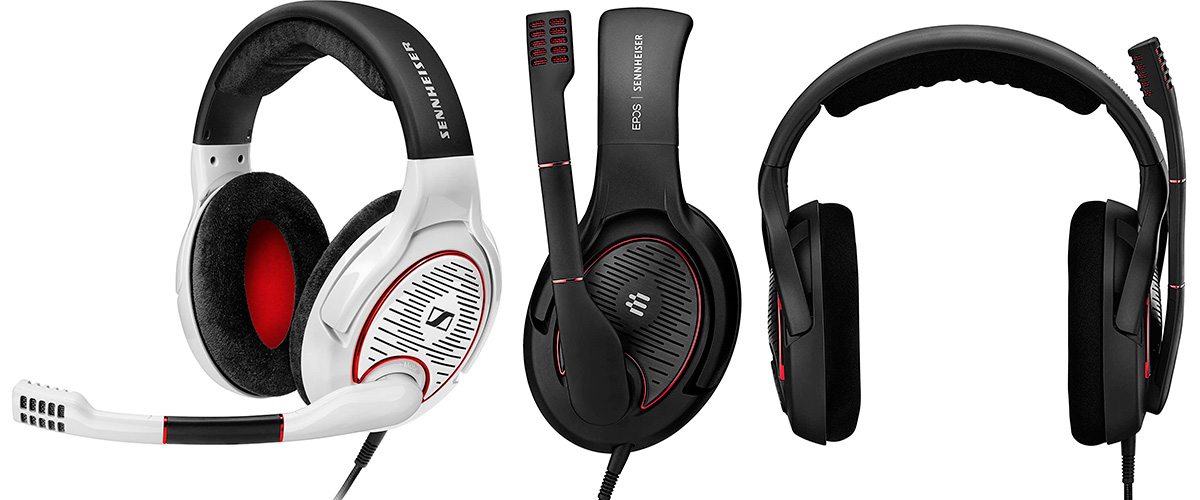 Sennheiser Game One
The Best Open Back Headphones For Gaming
What to pay attention to?
Well, there are plenty of things to consider when buying a device for gaming. Let's focus on the main points! I know that the price is important for you. That's why all the units here are divided according to their cost. It does not mean that the cheaper options are bad or have poor quality. Usually, they just do not have some features that you can get with more expensive appliances. I suggest you take a closer look at the mid-priced headphones. There are many more wonderful devices for gaming but I chose only the greatest ones.
Best Open Back Headphones For Gaming Reviews
Best Open Back Headphones For Gaming Under $300 Reviews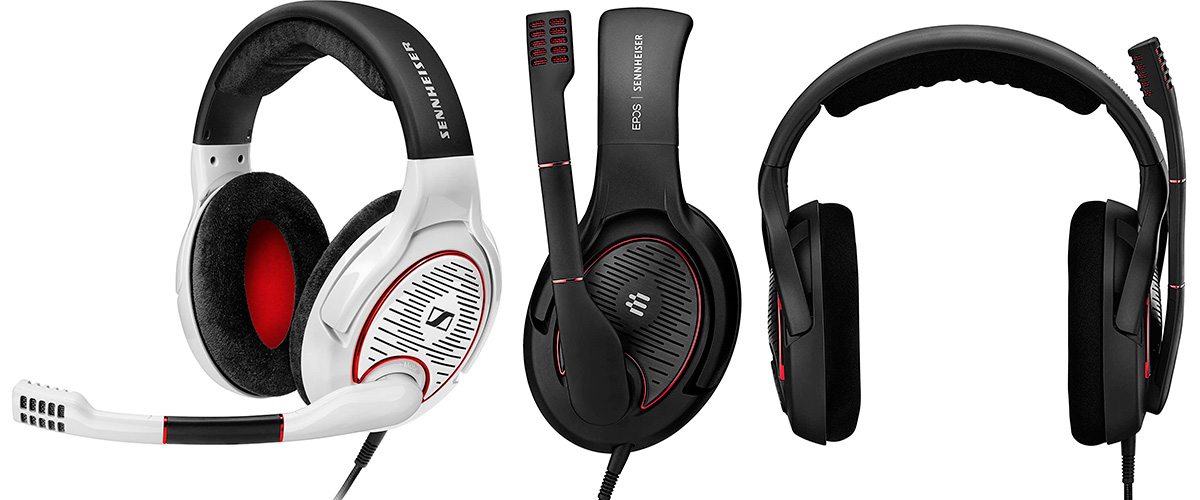 I'll start with the best open back gaming headset in my review. This device made by Sennheiser is wired as most headphones with an open design. It produces an incredibly accurate and high fidelity sound. You are going to be blown away by the clarity of audio that is delivered by these cans. One of the most exciting features of the Game One is the well-designed noise-cancelling microphone. It allows you to communicate with other players efficiently and smoothly.
The right ear cup has buttons for adjusting the volume. It is extremely convenient since you don't have to get distracted when you want to make the sound louder. Both cups are covered with a nice velvet material that looks stylish and feels good on the skin. Overall, the headphone design is modern and minimalist which is not a common thing for over ear devices.
The headphones weigh 300 g/10.5 oz but they do not feel heavy on the head. Speaking of their specs, the sensitivity is 116 dB. Even when the game sounds are really loud, you will hear them all very clear. The impedance level is 50 Ohm. When it comes to frequency response, you have to consider the figures for both headphones and microphone. In the case with the headphones, the sound range is 15 Hz – 28 kHz, while the frequency response of the mic is 50 Hz – 16 kHz.
This appliance works perfectly with a PC but it also can be connected with any other gadget that has a 3.5mm jack. The headphones come with two cables: 300 сm/9.8 ft (PC/Mac) and 120 cm/3.9 ft (Console).
Pros
The headband can be stretched up to 5 cm in length
The big earpads can cover the entire ear
Available only in black and white colours
Cons
Sound leakage due to design
Lack of EQ modes
Beyerdynamic DT 990 Pro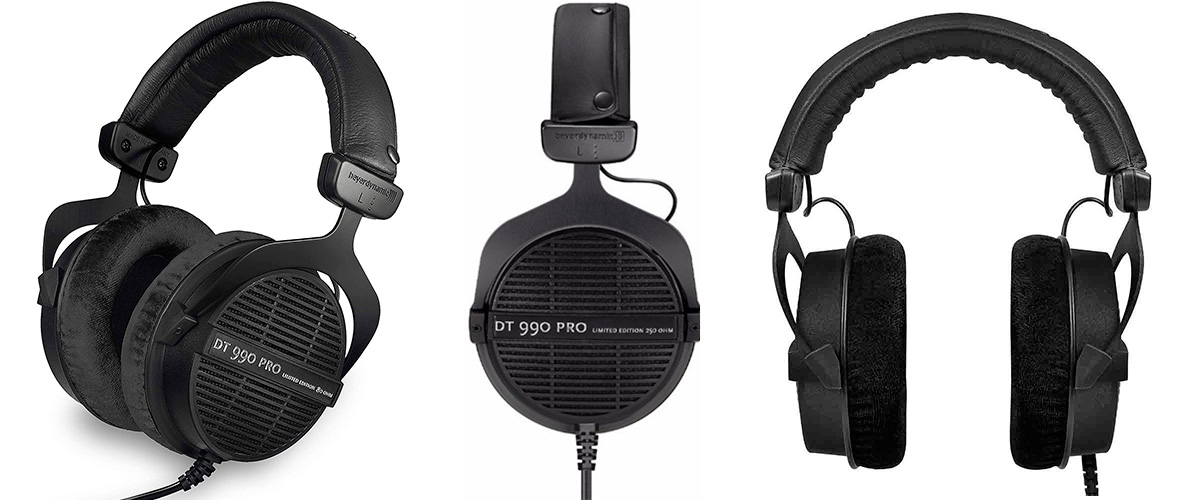 This is another pair of headphones with open design that look premium. Their huge and super comfortable ear cups are wrapped with grey suede. The DT 990 Pro is often found in many studios. The considered device for gaming has an over ear wearing style and works only with a wire. By the way, I got it with a 300 cm/9.8 ft long cable that is plugged in a 6.35mm jack. The audio cable isn't detachable. The U-frame holding the ear cups is metal, which means the headphones should last long.
The mentioned unit is a bit heavier than the previous one as its weight is 360 g/12.6 oz. If you value crystal clear sound, you will be delighted to find out the technical features of the headphones. Their frequency response is 5 Hz – 35 kHz. Meanwhile, the sensitivity of Beyerdynamic DT 990 Pro is 96 dB. I also want to tell you about the impedance level that can be either 80 or 250 Ohm, depending on your preferences.
I got a small carrying case with these open headphones. Not sure that travelling with them is a good idea but it's nice. The manufacturer also added a 1/8″ to 1/4″ adapter that comes with the unit.
Pros
Most of the parts can be replaced
Made entirely of very tough and lightweight plastic
The clamp is very well distributed thanks to the large earpads
Cons
U-curve sound signature
You have to replace the earpads with a new one every two years
Not suitable for tracking
Sennheiser HD 599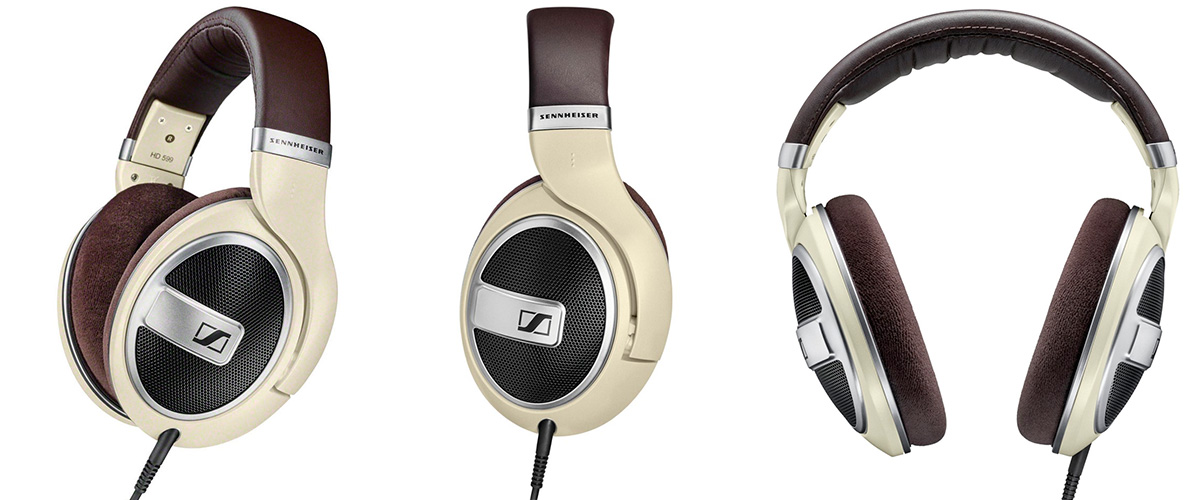 It's hard not to fall in love with these excellent open back headphones with an over ear design. Their perfectly curved oval ear cups have enough space for ears of any size. The width of their frequency response is really impressive since the device delivers sound in a range of 12 Hz – 38 kHz. The open ear gaming headset has a pretty high sensitivity level which is 106 dB. Raise the volume as much as you want and the sound quality will be still fantastic. If you wanna know about the impedance, this figure is 50 Ohm.
As a gamer, I was completely happy with the weight of these headphones. The point is, the device has 250 g/8.8 oz and feels incredibly light on the head. The use of E.A.R. (Ergonomic Acoustic Refinement) directing sounds exactly to the listener's ears. The headphones come with a pretty long (300 cm/9.8 ft) cable that is detachable. With regard to the sound, high tones claim to be high-end: they are clean, open, and light. I was very happy with the wide soundstage provided by these headphones. Speaking of noise-cancellation, Sennheiser HD 599 has underwhelming sound performance and below-average noise handling.
Pros
Has good padding on the headband
Absolutely amazing for long gaming sessions
Replaceable ear pads for long use
Cons
Dust can come inside the ear cups
No buttons for volume control
Best Open Back Headphones For Gaming Under $100 Reviews
Philips SHP9500 – best budget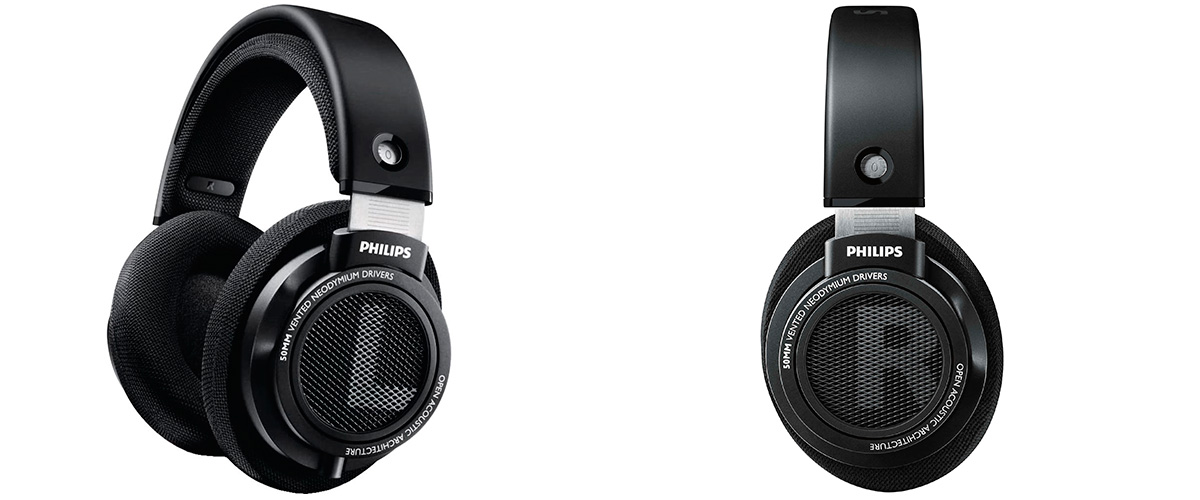 It's not hard to see that these headphones are intended for home use. They are the best open back gaming headphones that you can buy for a little money. These cans are open back and their around-ear cups are pretty huge. The headphones have a detachable cable with 300 cm/9.8 ft length. If it breaks, you can buy a new one continuing to use the headset. The sensitivity of these headphones is 101 dB which I find really great. No matter how loud your sound is, the clarity is amazing. The impedance level of the headphones is 32 Ohm. One of the most important features for gamers is frequency response. This feature is 12 Hz – 35 kHz.
When it comes to comfort, the headband pad is nice and extremely soft. Moreover, its suspension design should hug the contours of your head. The thing is, the headband is size adjustable to fit all head sizes with numbers on the headband to remember your profile. The headphones are light and super comfortable. They weigh only 320 g/11.2 oz.
The microphone has excellent clarity. In addition, the low profile nature of the mic is a nice bonus you get. The sound of the headphones is open, with clear detail and smooth playback. The imaging is stunning as well as the depth of the soundstage. The low end is present, making the signature a little fuller.
Pros
There's no way you'd have any pressure or fatigue after hours of use
You will have an inline remote for volume and muting the mic
Effects come through well
Cons
I would not expect much durability from the audio cable
The earpads are not removable
GRADO SR60e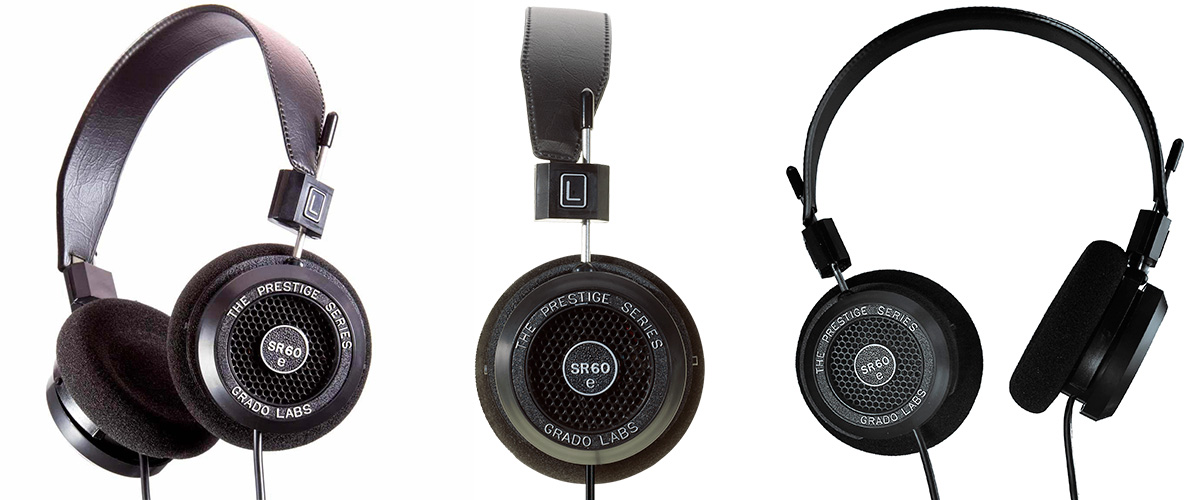 This entry-level model from Grado is all about full enjoyment of sound. These affordable headphones allow you to hear both thundering bass and kick-drum and without sacrifices to your comfort.
For the relatively low price you will get wired over ear headphones with an open back enclosure and basic old-school look. Their design is pretty impressive – the SR60e is equipped with a new driver made of moisture-proof polymer, which copes very well with resonant distortions that arises in the plastic housing. In addition, the updated headphones from E-series got a completely new 3 meter-long cable (9.8 ft) from the plug to the connector and 6.5 mm gold adapter included in the package.
One more important feature is the adjustable headband from solid bendable aluminum and the height adjustments for the ear, which can slide up and down smoothly to suit your head. Size may not be feet for all occasions as the weight of the headphones is 260 g/9.3 oz and they also have no built-in control buttons and noise cancellation, however, all inconveniences are compensated by top-quality sound.
With an impedance of 300 Ohm and frequency range from 12 Hz to 40 kHz, any kind of audio will sound excellent and you will still hear what happens around. That's why they are literally the perfect solution for playing computer games.
Pros
Great clarity of sound and broad soundstage, which is nice for gaming
Breathable air pads make them comfortable to wear in a hot and humid climate
High-quality, detachable audio cable with length perfect for desktop listening or connecting to musical instruments
Cons
Sound isn't sealed completely, so people near you can hear some music from the cans
No sub-bass, that means you won't get really rumbling bass while listening to rock or metal music
Premium Open Back Headphones For Gaming Reviews
Sennheiser HD 600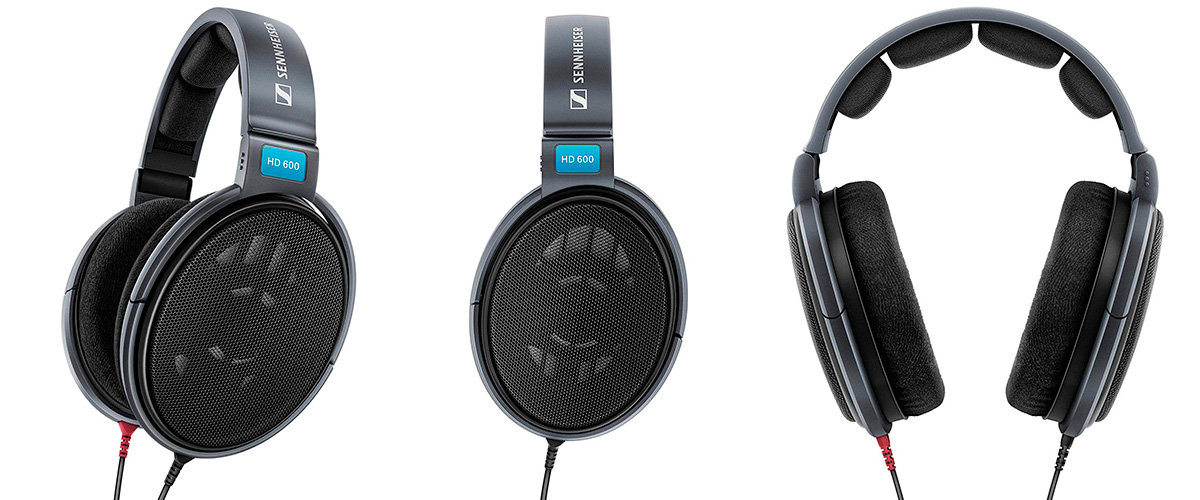 If you're looking for the best open ear headphones for gaming the HD 600 model by Sennheiser is a great choice. This is a wired open back headset with impressive specs and clear design. They have a 40mm dynamic driver with a 300 Ohm impedance and a 12 Hz to 40 kHz sound range, all of this helps you to miss no beat and always be in charge of any game situation, whether you need to define your opponent's position or to fully jump into the game atmosphere. The sound itself is very smooth and has incredibly well balanced lows, mids, and highs, so you can listen to any kind of music or other audio content.
Design of this model is pretty simple, it mostly made of hard plastic, the model is not foldable and has no microphone, complete absence of built-in control buttons and noise cancelling is disappointing but they still got some cool features, such as adjustable headband which allows to find a perfect fit for all head types and removable cable with a carry case for better transportation.
All used materials are premium and extremely durable, you can be sure of the reliability of your device in years. Weight of this gear is 260 g/9.3 oz which is not as light as you can imagine but still an impressive result, in combination with soft breathable ear pads and big cups you can wear them for hours without any pressure given to you head or ears and win even the most exhausting battles.
Pros
Balanced high-quality sound with good positioning in games
Great build quality, all materials are durable and mostly modular
Budget-friendly price for this type of headsets
Cons
Absence of some important features, such as microphone and noise-cancelling
Design due to its simplicity may not suit everyone
If you want to get the most out of them, you will need an amplifier
Buyers Guide
Open back vs closed back headphones for gaming
If you are a gamer, the difference between closed back and open back headphones must be significant for you. The main advantage of closed devices is decent noise isolation. It means you are not going to be interrupted by people talking around, and your surroundings will not hear any sound of your game. Meanwhile, the best open back headphones for gaming let sound to naturally dissipate out of the rear of the ear cup. So, you get incredibly realistic audio with impressive effects. The soundstage of such devices is noticeably wider and their acoustic profile is softer.
How do they actually work? When the driver is vibrating the audio is being sent into your ear and out through the back of the headphone, in this way creating this amazingly different acoustic sound signature versus a closed design.
Another benefit of open back headphones is that their ear cups are breathable. Normally, listening to music or playing games with such a unit for several hours is not a problem. Manufacturers often add velour earpads that also let the air pass through.
Of course, there is a disadvantage since everybody can hear what you are listening to. Anyway, the sound advantages really outweigh all the negatives that come with the nature of open-style headphones.
Do I need an integrated microphone?
You can buy a headset or headphones for gaming. What is the difference and which option is better? Well, the headset has a built-in microphone which is the main distinction. It does not deliver a super professional sound but the clarity of its audio is usually great. Using a headset, you will get a clean sound with powerful bass, virtual surround capabilities, or even actual surround. However, such units are normally less portable and stylish than usual headphones. They are also sold at a bit higher price.