If you like watching thrillers or horrors, the people living with you may not be very happy with that. The solution is getting the best headphones for movies and enjoying favourite acting at high volumes even at midnight. I know, choosing such a device can be tricky as all good models seem to be suitable for your purpose. This review includes some aspects that you might not think about.

The headphones mentioned here are capable of reproducing all frequency ranges equally well. If you prefer to use a wireless device, then it would make sense to select one with seamless syncing between picture and audio. Normally, manufacturers do not tell about such features in simple words. So, if you are not in the headphone business and such terms as impedance and frequency response do not make much sense for you, I'll help you with selecting a good device. My experience allows me to make really useful suggestions to less experienced users.
Trying to make this review as helpful as possible I also considered such things as comfort and durability of different units. Only a pair with enough headband padding, adjustable size, and durable materials will make watching movies an enjoyable process.
Our pick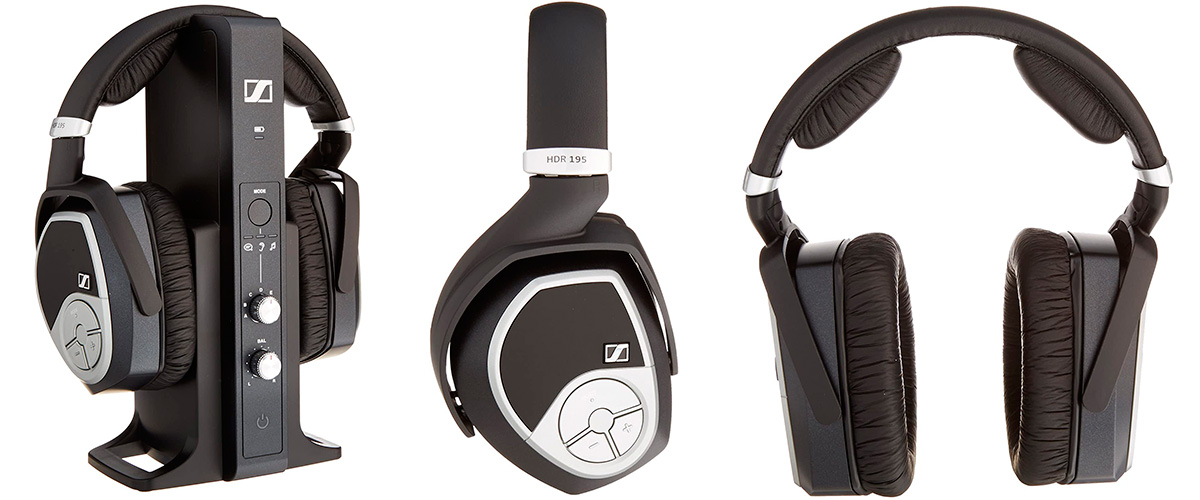 Sennheiser RS 195
The Best Headphones For Movies
With the wireless RS 195, make sure you don't miss a detail when watching TV and listening to music
Best Headphones For Movies Reviews
Best Headphones For Movies under $300 Reviews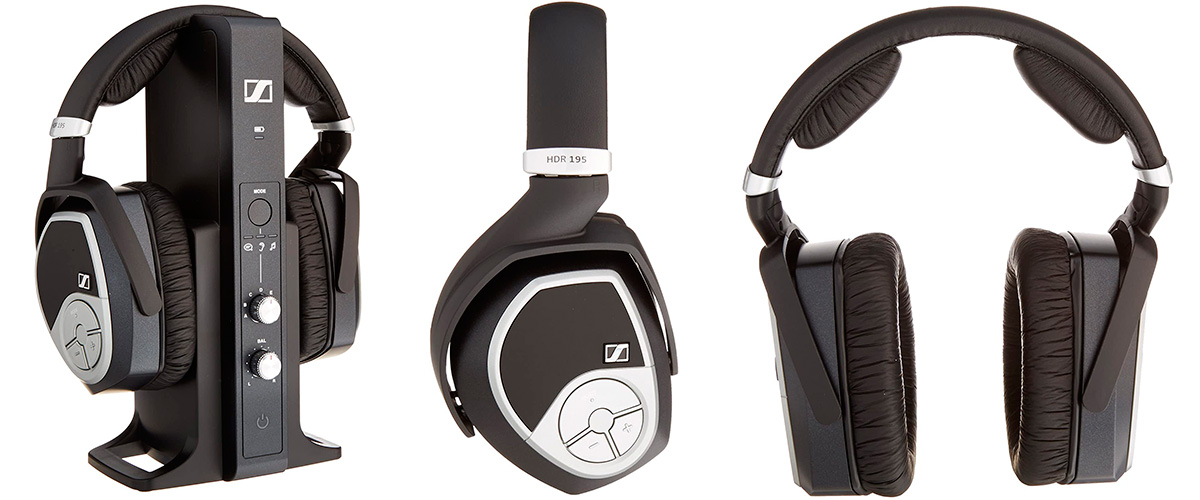 I truly believe that these are the best headphones for watching movies. First, they are wireless, which means you can watch a drama or comedy even from another room. Just imagine, the delivery range is about 100 m/328 ft. The syncing between picture and audio is absolutely excellent since the manufacturer uses innovative digital wireless transmission technology. Sennheiser RS 195 has 32 Ohm of impedance which provides a positive effect on the sound quality. The headphones have a multi-purpose transmitter that supports both digital and analog inputs. The 3.5mm jack will let you use the device as wired.
The frequency range of the headphones is 17 Hz – 22 kHz. So, you are going to have a well-detailed sound that will make all effects look real. With this device, you can raise the volume as much as you want without being afraid that it can damage the audio quality. The point is, the RS 195 has 117 dB of sensitivity.
The next thing I want to tell you about is the battery life which is 18 hours. If you can't imagine your life without a movie every evening, you will have to charge the device approximately once a week. Isn't it impressive? In terms of comfort, the headphones weigh 340 g/12 oz and feel pretty lightweight on the head. Unfortunately, they do not have a mic, but are you going to need it while watching thrillers or dramas?
This model has great passive noise reduction. Its ear cups are quite big and protect your ears from a big amount of surrounding sounds. If your roommate or family makes a lot of noise while you are watching movies, this feature will be incredibly helpful. One more thing you have to be aware of is that the RS 195 has a neodymium magnet. What does it mean? Headphones can have neodymium or ferrite magnets. The first ones benefit more bass and clear high notes.
Pros
There is a control panel for comfortable use
Equipped with a battery level indicator
The battery can be replaced with another one
Cons
No active noise-cancelling
Does not support Wi-Fi
Plantronics Backbeat Pro 2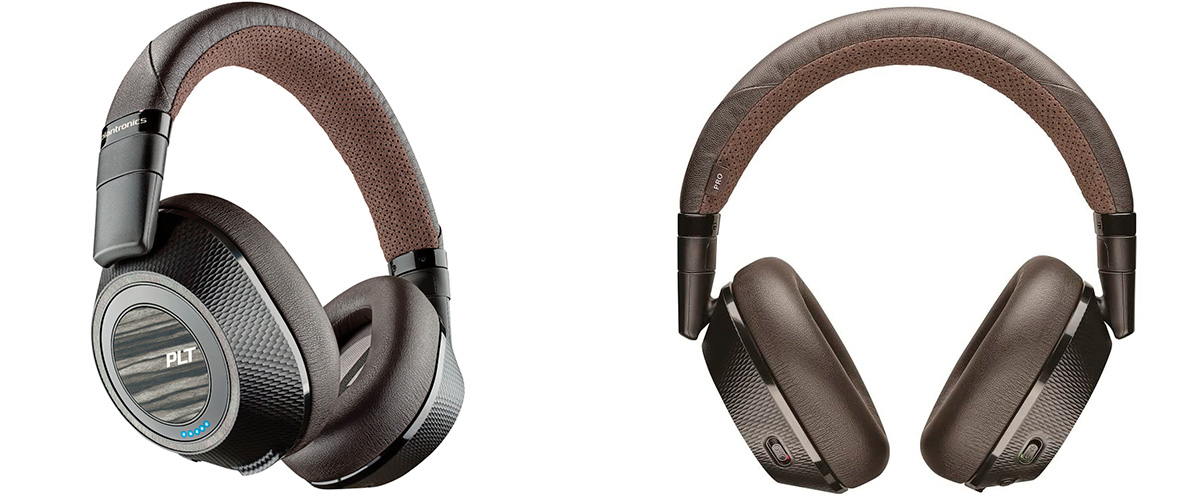 Let me tell you about this great device with active noise-cancelation. It weighs only 289 g/10.1 oz and can be folded when you do not need it. These headphones can be used not only for watching TV but also for listening to music while you are travelling or commuting. By the way, you get a nice travel bag with this unit.
I want to pay your attention to the features that are really important for a pair of headphones for watching movies. The Backbeat Pro 2 has stereo speakers which means they are able to create rich and natural sound. Their over ear design makes the appliance comfortable to wear for hours. So, you can have a movie night with no issues.
These headphones are wireless, but you get an audio cable with them. The frequency range of the device is 20 Hz – 20 kHz. Speaking of the impedance level of the Backbeat Pro 2, it is 32 Ohm. You also may be wondering about the sensitivity of these closed back headphones. They operate at 93 dB.
I don't think that long battery life is a vital thing for the headphones that are going to be used mostly at home. Anyway, you have to know that Plantronics Backbeat Pro 2 can work for about 24 hours. The aptX support allows you to get a great sound whatever device you connect to the headphones.
Pros
Has buttons for control
Equipped with a microphone, so making phone calls wouldn't be a problem
Has a mute function
Cons
The battery is non-removable
Best Headphones For Movies under $100 Reviews
Avantree HT4189 – best budget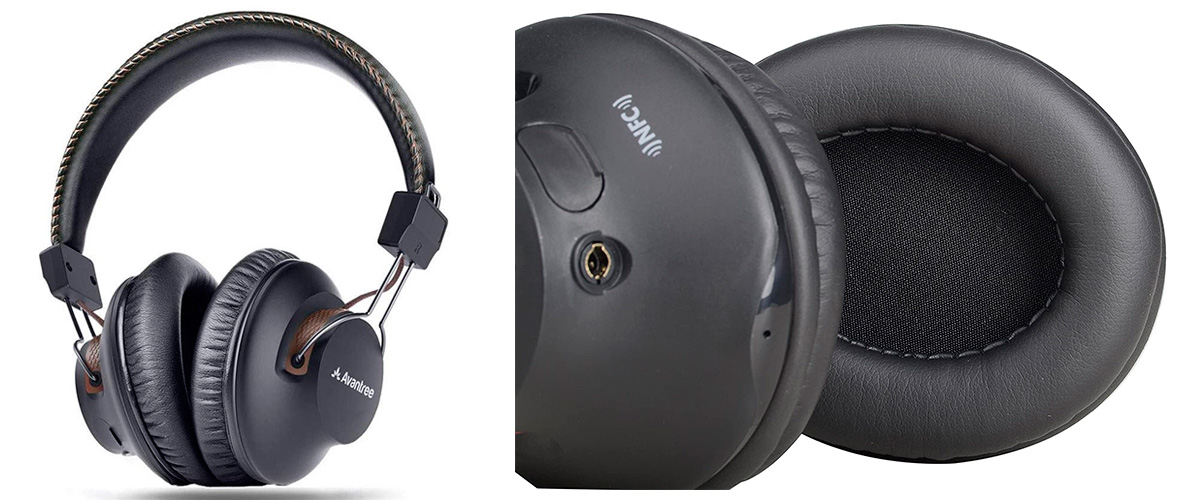 These wireless headphones for movies can also be used with a cable since they are equipped with a 3.5mm jack. The audio cable allows you to switch among wired to wireless headphones in seconds. This model has an extremely long battery life which is 40 hours. The device is compatible with 99% of TVs on the market. Of course, you can also use the closed back headphones with your phone, tablet, and other gadgets connecting them via Bluetooth.
From my point of view, it's really fantastic that you can buy such a cheap pair of headphones with zero lip-sync delay. Yes, watching different movies with them is truly enjoyable. The range of Avantree HT4189 is 30 m/100 ft, so you can go to the kitchen to get food without stopping the movie. These headphones have an over ear wearing style with a lot of soft padding in the ear cups. Their weight is 212 g/7.48 oz
Let's discuss the technical aspects of one of the best headphones for movies. The considered model has 32 Ohm of impedance, while its driver's size is 40mm. To add, the device supports aptX for a perfect sound when you use it as wireless. With regard to its frequency response, the appliance works in a range of 20 Hz – 20 kHz. The headphones support Bluetooth 4.2 and come with a wireless transmitter.
Pros
Connects automatically once turned on
Feels premium and fit nicely over your ears
There is a vast troubleshooting guide in the instructions
Connecting the headphones to the transmitter is super easy
Cons
Comes without a USB cable
Philips SHP9500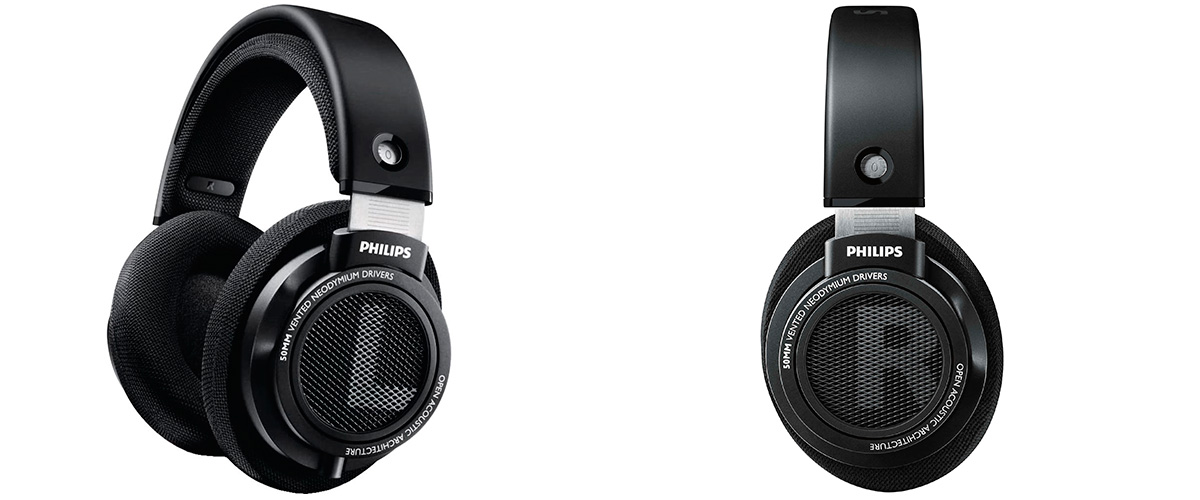 Let me introduce you to the first pair of open back headphones in my review. One of their key features is the wide frequency response from 12 Hz to 35 kHz. The headphones are equipped with neodymium magnets and have 50mm drivers. This is a wired device that comes with a detachable single-sided cable. The wire is 300 cm/9.8 ft long. Plus, you get a 1/4″ adapter with it.
The over ear design of the unit makes it suitable for long-wearing. You'll find traces of Philips branding on the ear cups and headband. The headphones are not too tight or heavy on the head for their size. Both the ear cups and the headband are well-padded. This model is not foldable, so I would suggest traveling with it. The headphones provide incredibly precise and accurate audio. Philips SHP9500 is relatively lightweight as it has 320 g/11.2 oz. Speaking of the technical features, the headphones have 32 Ohm of impedance and 101 dB of sensitivity. So, even when you are listening to a dialog really loudly, the sound will be perfectly clear.
Overall, the device looks durable. Although I did not use it for years, the body is made of high-quality plastic and seems to be sturdy.
Pros
Breathable ear cups
Great for gaming due to the detailed sound
Engineered to fit the ear's natural geometry
When you are listening to music, you get powerful, tight, and detailed bass
Cons
No carry case included
The headband coating made of a rough fabric that irritates the skin
Premium Headphones For Movies Reviews
Bose QuietComfort 35 II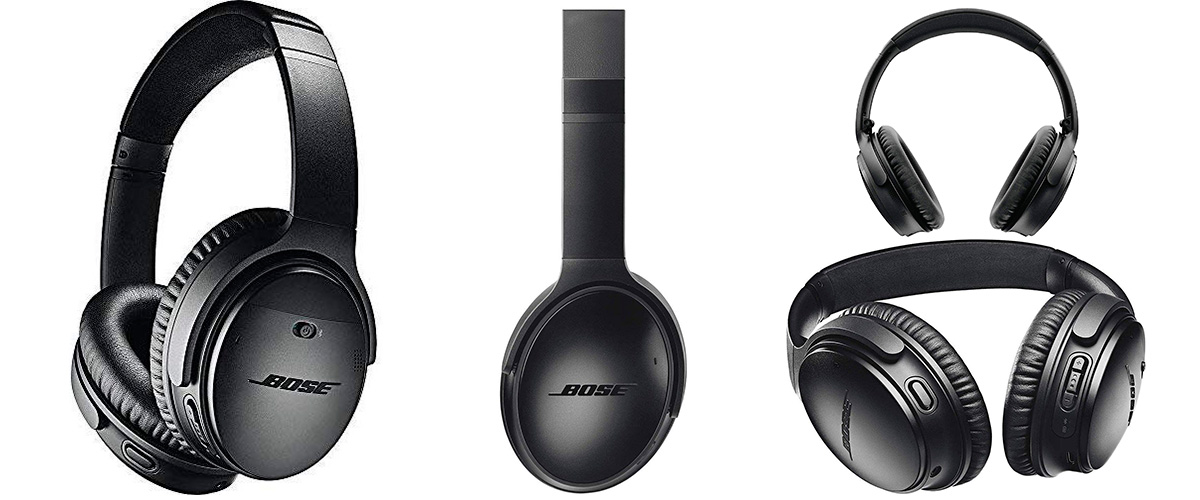 It's hard to find a pair of headphones as sleek as this one. The device has amazing black design and weighs only 240 g/8.3 oz which is extremely light. Even if you are wearing the headphones for 3 or 5 hours, you will not feel any fatigue. The wireless device is closed back, so you will have no sound leakage. If you are listening to music with these headphones and someone is calling you, just press a button to answer. The device has a built-in microphone that provides good clarity of sound.
The next feature I want to share with you is the active noise-cancellation. You do not have to ask everyone in your room to be silent because you want to watch a new comedy. Just switch on the ANC, adjust it to the perfect level, and enjoy your evening. I have to mention that these headphones are foldable. Planning to travel with them? It will be comfortable since you also get a hard carry case with the considered model.
I know many people who bought Bose QuietComfort 35 II because it is really convenient to use in wireless mode. The appliance works about 20 hours after two hours of charging. Impressive, isn't it? However, if you like these headphones for some other reason or simply have no time to change it, you can plug in an audio cable. It is pretty thick and 120 cm/3.9 ft long.
Pros
Google Assistant integration
Excellent for electronic and rock music
The buttons around the right housing are intuitively placed
Cons
The battery isn't replaceable
Buyers Guide
Can headphones do surround sound?
Are you looking for the best surround sound headphones for movies? The point is, such an effect is created not by headphones themselves but by a special technology that can be built-in to the device. Usually, those who like gaming and watching movies want to get a unit with a surround sound as it makes the mentioned activities enjoyable.
First, I would like to say a few words to gamers. Some games have some kind of built-in surround processing. So, you just have to switch it on without downloading or installing anything. However, there are some other ways to get this effect. For example, you can use Dolby's Atmos for Headphones tech that amplifies ambient noise.
You also can get a Spatial Sound Card that is free. This system consists of adjustments for each virtual "speaker" and a few equalizer presets. There is also a PRO version of the Spatial Sound Card. One more instrument for the surround sound is Equalizer APO with the HeSuVi plugin.