Nowadays the market of headphones can offer you a large number of different headphones, which makes it more complicated to choose the best headphones for metal. To appreciate this music completely it is better to select headphones that are specifically oriented on this genre of music. Metal requires more depth and clear sounds, which are not altered by the accessory. The headphone should not increase sounding on the low, midrange and high frequencies of music. Only then, you will be able to hear the original sounds that were performed by the artists.

While buying headphones many customers in the beginning look at the design. It is definitely important how they look, but it does not improve the quality of sound. Therefore, in this article, you will find information about important points that you should consider before making a decision. Together with headphones reviews, you will be able to learn more about their specifications.
Our pick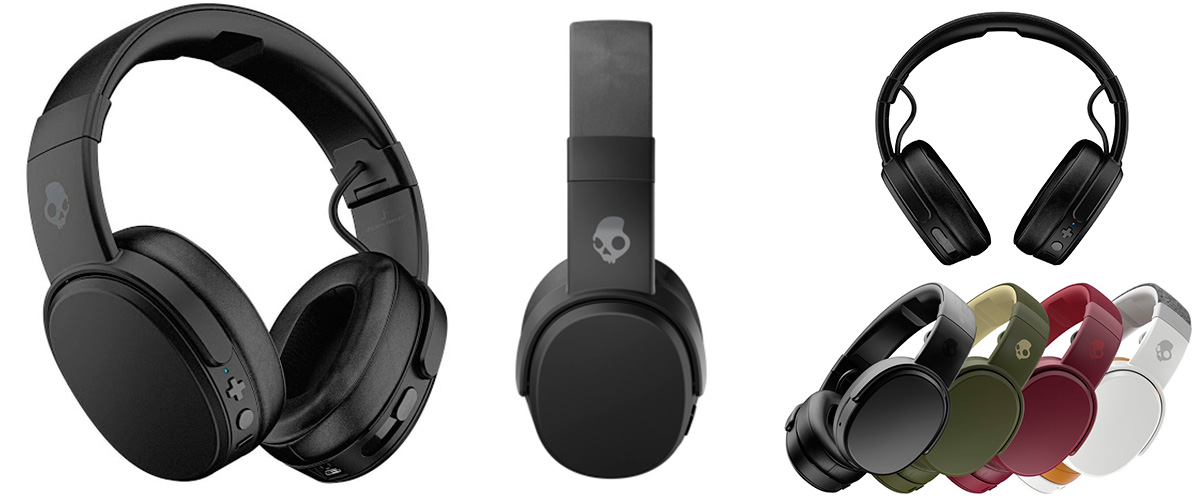 Skullcandy Crusher
The best Headphones For Metal
What to pay attention to?
As to make such a decision may be a complicated task for you, we have prepared for you several models. They are divided into several categories according to their prices, which allows you to choose headphones within the range of your budget. The Midrange category has the best headphones for metal music in a combination of quality and price. It means that you will not pay too much and you still will be able to listen to music with good sounds.
As there is a great variety of headphones, it is impossible to enlist all of them in this small article. That is why here are presented the most important models. Each of them is suitable for using directly in combination with smartphones. They do not require additional headphone amplifiers.
Moreover, in these reviews, you will not find headphones with some specific features. Such types like electrostatic headphones require additional equipment and they will not work without an amplifier for headphones.
Wireless or wired?
In recent years, more manufacturers create wireless headphones. However, it is not always mean that they are better than standard wired models. As a result, there are three main types of them. Which one to choose depends only on your preferences and needs as each of them has some strong and weak sides.
Wired headphones are capable of producing better quality of sound, but wires can be damaged.
Wireless models are more convenient to use, and you will not hook your headphones while walking because of wires, but you need to charge them.
Combined headphones is a compromise, which allows you to connect wires and detach them whenever you want.
Closed back or open back?
Have you ever noticed that some headphones have open back? They are not broken, but a way of getting better sound quality. There is enough space for speakers to breathe and they will not produce pressure on your ears. However, this type is not suitable for outside as people around will hear your music also.
If you prefer to listen to music everywhere, then you should consider models with closed back. The music will be entrapped inside of them and you will not disturb everyone around you. In addition, they protect you from noises around you, which means that you should be careful while wearing them and using a crosswalk.
Headphones for metal & rock reviews
Best headphones under $100
Skullcandy Hesh 2 – best budget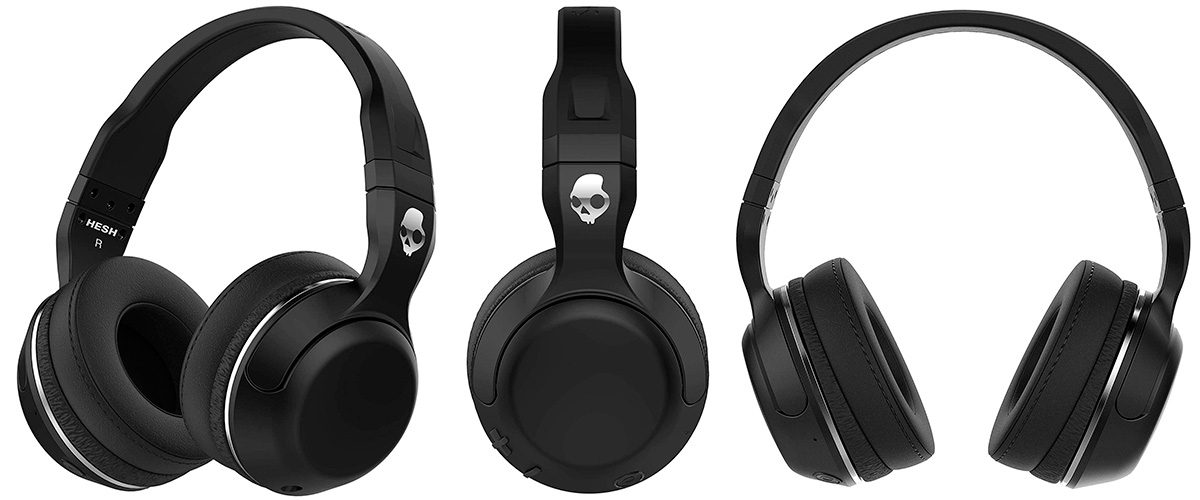 While buying some devices you always have something to start with. On the market, there are plenty of various headphones. If you not sure which one to choose, then it is wise, to begin with something cheaper. However, it does not mean that it should be of low quality. Therefore, you need to consider Skullcandy Hesh 2, which is the best headphones for rock music among other budget models. It can be black, silver or blue color, which allows to pick one that matches your style. They weigh is only 1.04 lbs. and has a rated impedance of 35 Ohms that is suitable for all smartphones. The wearing style is over-ear and it does not have sound cancelation. As the speakers are closed you may not worry that people around you will hear what you are listening to, which is important in public transport.
This model is wireless and can be easily connected via Bluetooth with your devices. The battery can provide you with high quality of sounds for 15 hours when the charge is full. While using it you will notice an LED indicator. If it starts to blink with red color, then it is better to recharge the headphones as you have only 10% left. With a quick charging system, you will need only 2.5 hours to fully charge it, which is very convenient during trips. On the right side, you will find buttons to control the volume level and power button that also can answer calls. It allows you to manage, and change songs without getting the device from the pocket. With an inbuilt microphone, you also can speak with everyone without occupying your hands.
Features
Wearing style: over ear>
Enclosure: closed back>
Source connection: wireless>
Pros
This model provides you with nice sounds on different volume levels
It is possible to use headphones via the cable while the battery is empty
Even without sound cancelation, it can isolate most of the sounds around you while listening to music
Cons
It becomes uncomfortable for ear after using these headphones for several hours
You cannot be pair it with your PS consoles via Bluetooth, it works only with a connected cable to the controller
You may encounter problems with pairing, which requires to restart the headphones
Audio-Technica ATH-M20x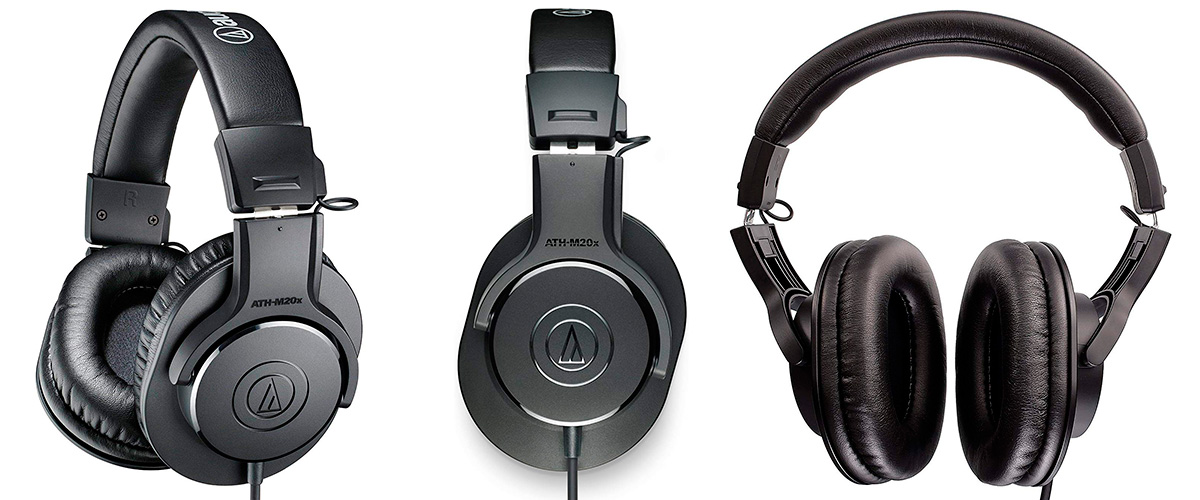 If you have visited some nightclubs or have seen videos from record studios, you could see that they also use headphones. Many people consider that they definitely very expensive and an ordinary audiophile cannot afford them. However, Audio-Technica ATH-M20x has proved that. Many professionals use these headphones for rock and metal songs and for mixing with studio tracking.
The design is simple with black color but it is reliable with good durability. You wear them over the ears and with large pads, which are suitable for most people. The headband is adjustable, so you may always change it the headphones squeeze your head too much. The speaker also closed what entraps sounds inside and it allows to create deeper sounding. As this model is wired you do not need to worry about the outputs of your device. The cable has a 3mm jack, which is common for most smartphones and additionally you receive a 1/4 inch snap-on adapter. Moreover, even with a wire, they weigh only 0.4lbs.
Speaking about the quality of sound you will be impressed, but not very much. It Audio-Technica ATH-M20x can play songs and create nice sounding, but it is still a cheap version. It means that you may not encounter the expected high-quality music. Moreover, it does not have sound cancellation. The earpads protect you from noises it is not enough.
Features
Wearing style: over ear>
Enclosure: closed back>
Source connection: wired>
Pros
You can hear wonderful sounds and midranges that are balanced, which makes it very pleasant to work with
While using for the computer you have a long wire that allows you to feel free and do not worry about stretching it
The way it covers ears allows to block many noises that are suitable during studying in public places
Cons
As it is oriented, more for studios and DJ the cord is very long what makes the headphones heavy for everyday use outside
This model consumes the battery charge of your smartphone very quickly at high levels of volume
If you wear glasses, you will not be able to wear these headphones for a long duration
Best headphones under $300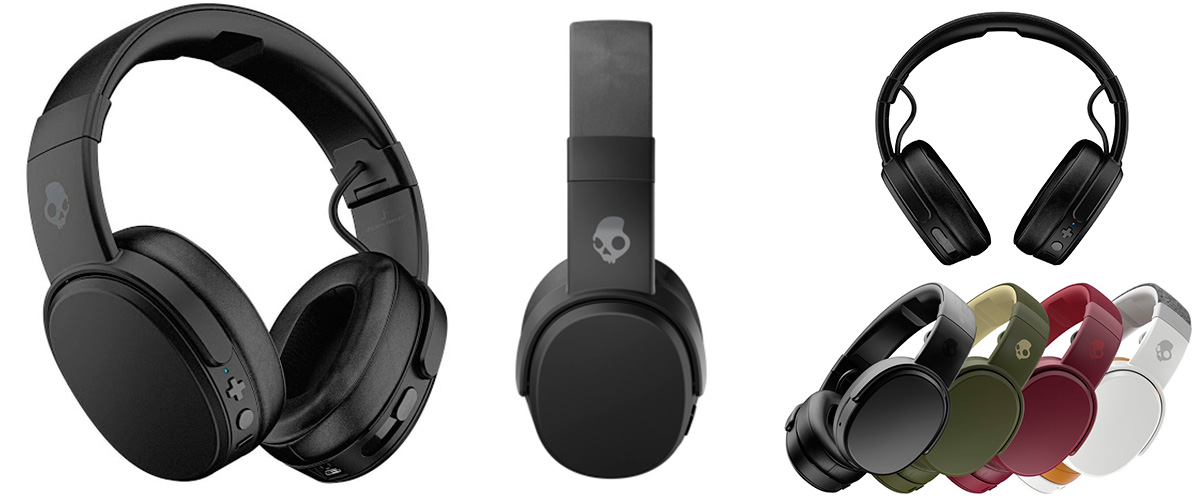 In modern life, it is very difficult to live without listening to music. As every person is different, then preference in songs also depends on the person. In order to satisfy the needs of customers manufacturer try to develop headphones for every genre. However, for heavy metal, you definitely would like to get something special. That is why to need to pay attention to Skullcandy Crusher. Starting from its name you can understand what kind of music they are most suitable. The design is also nice with a skull on the adjustable headband. You can get these headphones in black, white, olive or red colors. With inbuilt microphone and volume control buttons, you can even use your voice device's assistant
One of the most important features is that you can use them both, wireless and directly connected. The Bluetooth pairing is compatible with the most modern devices. The battery capacity allows you to listen to music in high quality for 40 hours. To recharge it you will need less than 3 hours as for every 20 minutes fills battery with 6 hours of charge. During long traveling, you can easily charge Skullcandy Crusher at some cafes during small stops. The wearing style is over-ear with enclosed ear pads, which allows you to do not worry about noises in crowded places. The impedance is 32 Ohm what is common for such headphones. They are a little bit heavy, 0.61 lbs. what is more than average for such models.
Features
Wearing style: over ear>
Enclosure: closed back>
Source connection: wired / wireless>
Pros
With a smart design of ear pads, they able to block most of the noises around you
The headphones sit tight on your ears what allows them not to fell off in the gym and not too much to squeeze your head
It does not leak sounds outside even at maximum volume
Cons
There is no active noise cancellation, which you can turn on and off
This model does not have an indicator of battery life, so you do not know when it is better to charge it
On low volumes, these headphones do not block the outside noises which makes it difficult to listen to music without loud volume
Beats Solo Pro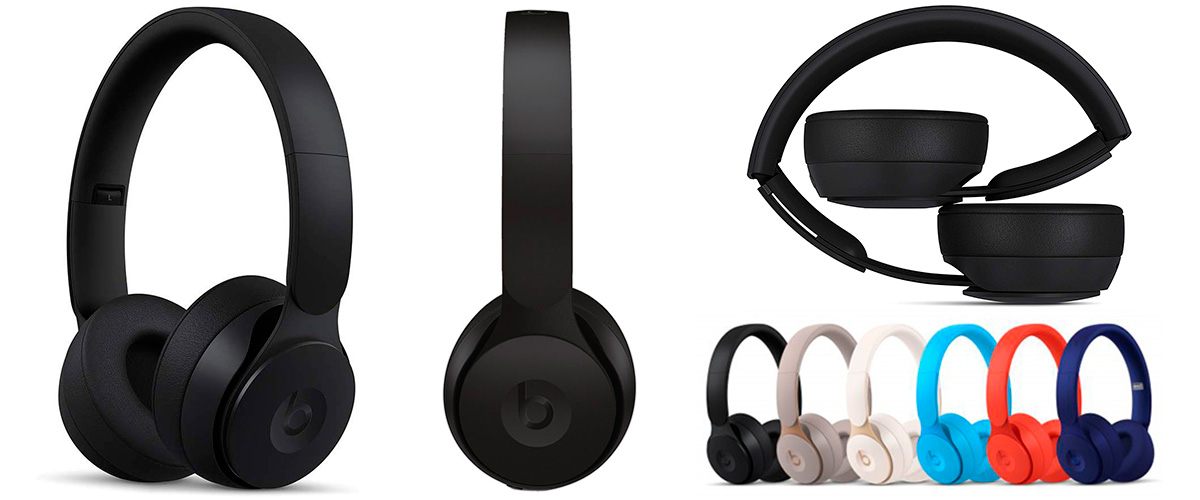 Everyday life in a modern city can be very noisy. People often become more nervous because of stress, which is caused by this cacophony. Manufactures of headphones used to create models that can give you high volumes, but still, it does not block all the noises from the outside. Then, they tried another path with sound cancelation. As a result, you can get Beats Solo Pro. They are wireless headphones with an ear wearing style and closed ear pads. The design is simple and you can choose whether it will be an ivory, dark blue, black, red, light blue or gray color.
The most important features of Beats Solo Pro are active noise cancelation and transparency mode. The first one works in real-time and uses calibrations according to different sounds in order to block them. The second one is aimed to filter sounds around you to keep you aware of what is going on. As this model is wireless, both these features consume battery charge and it can last for 22 hours. If you turn them off the battery will serve you for 40 hours. For recharging, you will need 10 minutes for every 3 hours of charge and lighting cable. They are not very heavy, with only 0.58 lbs. The impedance is 45 Ohms what is convenient for most smartphones.
Features
Wearing style: on ear>
Enclosure: closed back>
Source connection: wireless>
Pros
With inbuilt Apple H1 Bluetooth chip, you receive a larger range with less number of dropouts
It is possible to share your music with friends in case they have the same headphones
Cons
These headphones have an inconvenient design for ear what inflicts pain after several hours
With on-ear style, the ear pads may stuck out more depending on your ears
Sennheiser HD 600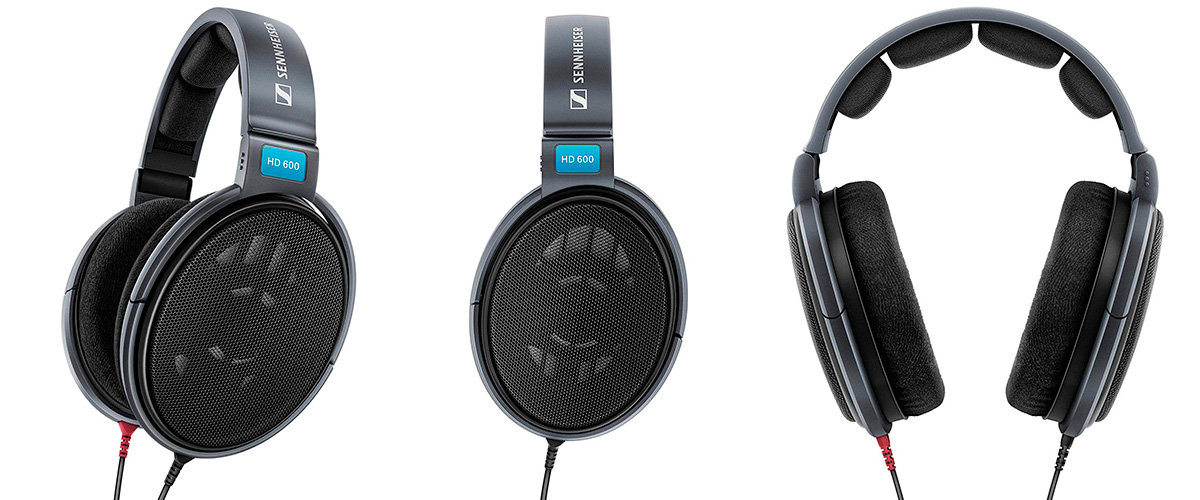 Sometimes you may want to time listening to qualitative sounds of favorite songs while staying indoors. You can use any headphones at home but still, they may lack off something. That is what Sennheiser HD 600 may offer to you. The body of headphones is made with sturdy but lightweight materials. The wearing type is over-ear, but they are back open. It means that speakers have enough space to provide you clear and wonderful sounds. The wires are done with Kevlar reinforced oxygen-free copper what allows you to worry less about damaging it very easily. In addition, there are separate cables for every side to enhance them with greater power. Moreover, they are detachable. Therefore, it will not be difficult to carry them with you.
In order to ensure that it will match every your device, you receive a 1/4 inch adapter together with headphones. Despite the sturdy materials it is not heavy and weighs only 0.55 lbs. The impedance is totally different thing. Sennheiser HD 600 offers you 300Ohms what is more suitable for computers, stereo systems, DACs and headphone amplifiers rather than smartphones. These headphones are also suitable for professional purposes at recording studios.
Features
Wearing style: over ear>
Enclosure: open back>
Source connection: wired>
Pros
As wires are detachable, you can easily replace them in case they have been damaged
By getting these headphones, you receive clear sounds of professional studio quality
Cons
They are very tight what makes it difficult to wear them for long periods
This model totally unsuitable for noisy places
It is not very attractive in its design and appearance
Premium headphones
Beyerdynamic Amiron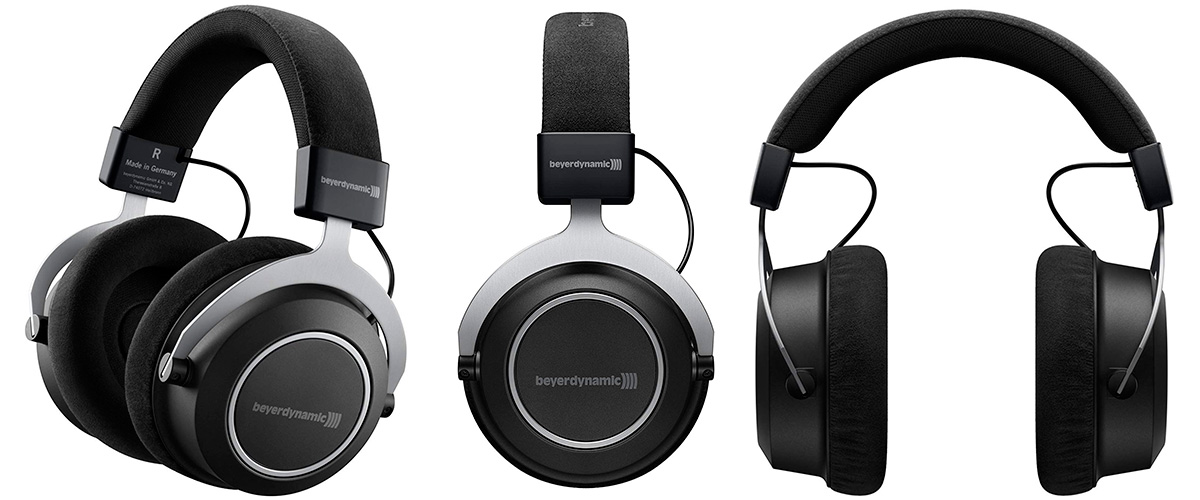 Sometimes you cannot get the needed quality unless you pay more. If you are ready to spend more on appropriate headphones for better listening to music experience, then you need to consider Beyerdynamic Amiron. It does not mean that other cheaper models cannot provide you good quality, but with a higher price, you often receive better quality with numerous features.
Beyerdynamic Amiron is manufactured in Germany what already evokes some trust. The materials are sturdy to guarantee durability and satisfaction for many years. It is a wireless model that uses Bluetooth for pairing. With different profiles, you can easily connect with your laptop, console, smartphone and other devices. Moreover, it uses Qualcomm aptX HD undo AAC technology to deliver qualitative music to your ears. However, due to all features, this model weighs 0.84 lbs. what makes it heavier than others do in this review. The wearing style is over-ear and it has closed-back ear pads.
The battery charge can provide you with sounds up to 30 hours and due to USB type C, you can quickly charge them back. It does not have specific technologies for noise cancelation, and with such design, you receive only average isolation from cacophony around you.
Features
Wearing style: over ear>
Enclosure: closed back>
Source connection: wireless>
Pros
Earpads are comfortable and do not cause much pressure on your ears
You receive a clear and transparent sound at low and high levels of volumes
Cons
The touch controlling is not very convenient due to lags for several seconds
It has an inbuilt microphone but the quality of it is poor and the voice becomes muddy